Enjoy Visa-Free Travel to 144 Countries

Obtain your Certificate of Citizenship and Passport in as little as four months

Benefit from the expertise of our professionals as they assist you throughout your journey to obtain citizenship by investment.
Citizenship By Investment
From $220,000
Grenada's Citizenship by Investment Programme
Grenada, the largest among a cluster of seven Caribbean islands, is renowned for its breathtaking natural landscapes, unspoiled beaches, enchanting waterfalls, and lush tropical scenery. It's no surprise that tourism plays a vital role in the country's flourishing economy.

Thanks to its peaceful and politically stable environment, Grenada attracts a substantial number of investors and those in search of a second citizenship. Its strong financial system, which includes international banks, is particularly appealing to many High Net Worth Individuals (HNWI). Moreover, Grenada hosts several prestigious international universities.

The Grenada Citizenship by Investment Program was established in 2013 as per the regulations outlined in the Grenada Citizenship by Investment Act.
About Grenada
Grenada: A Caribbean Gem
Grenada, located in the southern region of the Grenadines island chain within the Caribbean Sea, consists of the main island of Grenada and six smaller islands to the north. Renowned for its nutmeg and mace production, Grenada has earned the nickname "Island of Spice" due to its abundant export of spices. The island boasts pristine, untouched white-sand beaches and offers luxurious beachfront resorts for visitors to indulge in. When it comes to exploring citizenship by investment programs, obtaining a Grenada passport is a hassle-free option with numerous advantages. But before delving into those, let's take a closer look at some key facts about the country itself.

Population: With a population of approximately 111,454 spread across an area of 348 km2, Grenada has a population density of 319 people per km2.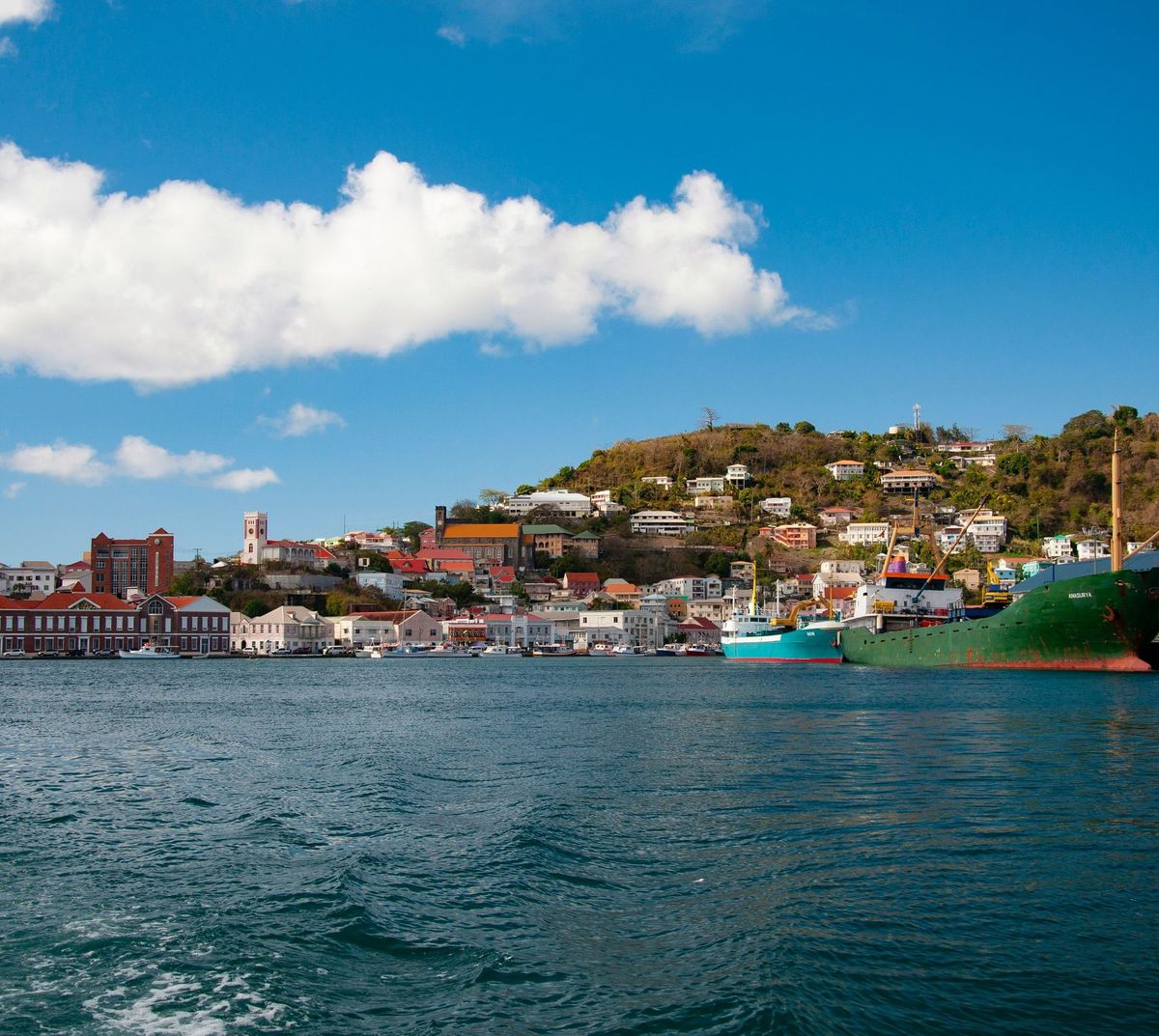 Currency: Like other members of the Organisation of Eastern Caribbean States (OECS), Grenada utilizes the Eastern Caribbean Dollar (XCD), which is pegged at a fixed rate of 2.7 XCD to the USD.

Capital City: St George's serves as the capital and largest city of Grenada, accommodating an estimated population of 34,000.

Languages: English is the official language of the country, although Grenadian Creole English and Grenadian Creole French are also spoken by the locals.

Climate: Grenada experiences a tropical climate, characterized by year-round warmth and average temperatures hovering around 28°C.

GDP: Grenada's GDP accounts for less than 0.01% of the global economy, amounting to approximately $1.21 billion.
Obtaining Grenadian Citizenship: A Guide
Becoming a citizen of Grenada grants you the rights and privileges associated with Commonwealth citizenship, including those in the UK and other Commonwealth nations. With a Grenadian passport, you gain access to over 140 countries worldwide, including the UK and Schengen countries. Notably, it is the sole program in the Caribbean that permits visa-free entry into China. Additionally, the Grenadian passport allows you to acquire an E-2 visa, granting you the opportunity to enter, reside, and work in the United States of America. The approval process can be completed remotely in less than four months, eliminating the need for travel to Grenada.

There are two primary pathways to obtain Grenadian citizenship:

Donation: Opt for the donation route, with a minimum contribution of $150,000 to the National Transformation Fund (NTF), or $200,000 for families consisting of up to four members. Each additional dependent necessitates an extra donation of $25,000.

Real Estate Investment: Choose to make an independent investment in a real estate project endorsed by the government, with a minimum value of $220,000. The investment must be maintained for a period of at least five years.

These options offer a clear path to Grenadian citizenship, providing individuals and families with the opportunity to enjoy the benefits and privileges it brings.
Advantages of Grenadian Citizenship
Government Stability: Grenada is an economically, legally, and socially stable country, operating under the Commonwealth realm and a democratic system based on the British parliamentary model.

Visa Treaties: Grenada holds a unique position among Caribbean nations by having a treaty with the United States. Acquiring a Grenadian passport makes you eligible for the US E2 non-immigrant visa and grants visa-free travel to China.

No Travel Requirements: Obtaining citizenship in Grenada does not require physical presence in the country. The entire application process can be conveniently completed remotely.

Visa-Free Travel: Through the Grenada Citizenship by Investment Program, you gain access to 142 countries without the need for a visa. This includes the United Kingdom, all European nations, Hong Kong, and Singapore.

Citizenship Inheritance: Grenadian citizenship is granted permanently and can be passed down through generations, ensuring a lasting legacy for your family.

Tax Advantages: Grenada offers an attractive tax regime for its citizens. By obtaining a Grenadian passport and citizenship, you can benefit from exemptions on capital gains tax, inheritance tax, and net wealth/net worth tax.
Tax Advantages in Grenada
Taxation in Grenada offers numerous benefits for residents, including:

1. No Capital Gains Tax: Grenadian residents are not subject to capital gains tax, providing an advantageous environment for investment and financial growth.

2. No Inheritance Tax: Inheritances and estates are exempt from taxation in Grenada, allowing individuals to pass on their wealth without additional tax burdens.

3. No Income Tax on Worldwide Income or Assets: Grenada does not impose income tax on worldwide income or assets for its residents, fostering a favorable tax environment and financial freedom.

4. Individual Income Tax Rate: For individuals earning income in Grenada, there is a progressive tax rate structure. The tax rate is 10% on the first XCD 24,000 of income and 28% on any income exceeding that threshold.

To explore the comprehensive tax advantages and further details on taxation in Grenada, we invite you to download our comprehensive guide.
Grenada Citizenship Application Process
The process of applying for Grenadian citizenship follows a structured timeline overseen by the Grenada Citizenship by Investment Committee (CBIC) in accordance with the Grenada Citizenship by Investment Act of 2013. Here is an overview of the application process:

Months 1-2:
During the first two months, the initial client due diligence is conducted. This involves thorough background checks and verification of the applicant's eligibility. The application is prepared and submitted to the CBIC.

Months 2-4:
In this phase, the CBIC reviews the application and assesses the proposed investment or donation. The applicant fulfills the financial requirements as outlined in the program, either by making the necessary investment or donation.

Month 4:
Upon successful completion of the application process and approval by the CBIC, the Certificate of Citizenship and passport are issued to the applicant, officially granting them Grenadian citizenship.

It's important to note that the final decision regarding the approval, denial, or potential delay of the citizenship application lies with the Minister of Grenada. The entire process typically takes around four months, from the initial submission to the issuance of the Certificate of Citizenship and passport.