Some Key Facts about Malta
The Maltese Citizenship by Investment Programme offers the opportunity to obtain permanent citizenship in the charming Mediterranean island of Malta. Discover below what makes Malta such an appealing country for those seeking European citizenship.

Population: With a population of 493,559 spread across an area of 316 km2, Malta maintains a vibrant community.

Currency: Since 2008, the official currency in Malta is the euro, replacing the Maltese lira.

Capital City: Valletta serves as the capital of Malta. Despite its small size of only 0.8 km2, it stands as one of the smallest capital cities within the European Union.

Languages: Malta has two official languages: Maltese and English. The vast majority of the population (98%) speaks Maltese, while a significant portion (88%) is proficient in English. Additionally, due to its proximity and strong ties with Italy, many Maltese also speak Italian.

Climate: The Mediterranean climate of Malta brings hot summers and mild winters, offering pleasant weather throughout the year.

GDP: Malta's GDP holds a share of 0.02% in the global economy, amounting to $14.54 billion.
About Malta
Malta, positioned in Southern Europe, is located approximately 80 km south of Italy.

With a population density of 1,457 people per km2, Malta ranks as the 5th most densely populated territory globally.

The captivating Blue Lagoon stands out as one of the most scenic locations within the Maltese islands, featuring pristine, crystal-clear waters and offering exhilarating scuba diving experiences. This draws numerous tourists throughout the year. Moreover, Malta boasts thriving business sectors, particularly in the areas of casinos and iGaming.

Having become a British colony in 1813, Malta eventually gained independence in 1964.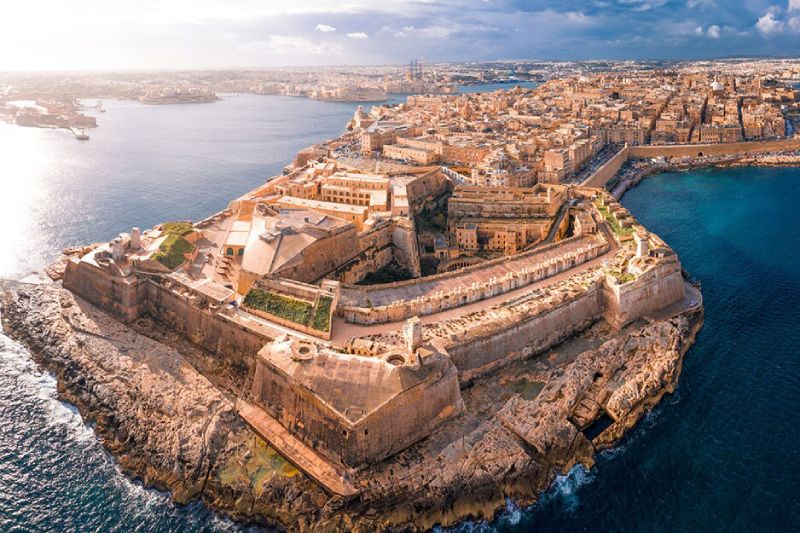 Advantages of Malta Citizenship
Government: Acquiring Maltese Citizenship provides entry to an economically stable nation that is a member of both the European Union and the Commonwealth.

EU membership: Obtaining citizenship in Malta also grants EU nationality, entitling individuals to establish themselves in any of the 27 EU countries and Switzerland.

Stringent due diligence: The Maltese Citizenship by Investment Programme maintains the highest standards of due diligence, ensuring that only highly reputable applicants are accepted.

Healthcare and education: Gaining Maltese Citizenship provides access to top-quality healthcare and education systems.

Banking services: Malta boasts an exceptional banking center, hosting major international banks.

Tax advantages: Malta is widely recognized as a reputable jurisdiction for establishing low-tax companies, offering favorable conditions such as low-income tax rates, no capital gains tax, and no inheritance tax.