The Portuguese Golden Visa stands as a highly sought-after residency by investment (RBI) program worldwide.

Since its inception in 2012, over 10,000 applications have successfully gained approval under the Portuguese Golden Visa program.

With the Portuguese Golden Visa, the path to EU citizenship can be achieved within a span of six years.

Entrust our team of experts to accompany you on your residency journey, providing invaluable guidance to secure your Portuguese Golden Visa and, ultimately, your Portuguese passport.

Our team of experts is dedicated to assisting you throughout your residency journey, providing comprehensive guidance to acquire your Portuguese Golden Visa and, in due course, your esteemed Portuguese passport.
What is the Golden Visa in Portugal?
The Portugal Golden Visa program is specifically designed for non-EU/EEA citizens who wish to obtain permanent residency in the country through investment.

Introduced by the Portuguese government in October 2012, the Golden Visa program serves as a catalyst for foreign investment, aiming to enhance the nation's economy. Renowned worldwide, the program has amassed over €6 billion in investments and holds a prominent position among similar programs.

Featuring diverse investment options, ranging from real estate ventures to capital transfers, the program bestows a residency permit that grants you the privilege to reside, work, and pursue education in Portugal. With its exceptional quality of life and affordable living costs, Portugal offers an attractive environment for individuals seeking a higher standard of living. Moreover, successful applicants gain increased freedom of movement, including visa-free access to 188 countries, encompassing the European Union countries within the Schengen Area.

The program further presents long-term advantages. After maintaining residency status for five years, applicants become eligible to apply for Portuguese citizenship, permanent residence, and ultimately, an EU passport. The increasing popularity of Portugal citizenship by investment can be attributed to the unparalleled quality of life enjoyed by Portuguese residents.
What makes Portugal a sought-after destination for citizenship by investment?
The Portuguese Golden Visa program has enabled numerous families to relocate to Portugal successfully, providing them with access to a high standard of living and a vibrant cultural experience.

Situated as the westernmost country in Europe, Portugal boasts a rich history of global influence, with colonies spanning across Africa, Brazil, Persia, Indochina, and the Malay Peninsula. It is recognized for its safety and low crime rates, while English is widely spoken in tourist areas despite Portuguese being the official language.

As a member of the Schengen area and an adopter of the Euro since 2002, Portugal offers a favorable business environment alongside a significant manufacturing sector. It stands as the world's leading supplier of cork and benefits from a thriving tourism industry.

Portugal is celebrated for its architecture and cultural contributions that have influenced much of the Western world. Additionally, its culinary delights, particularly seafood and pastries, have garnered global acclaim. Last but not least, Portugal's passion for football is widely recognized.
About Portugal
Population: With a population exceeding 10 million, Portugal spans an area of 92,212 km². This European nation boasts a remarkable life expectancy rate of 81 years, placing it among the highest in the world.

Currency: Portugal employs the euro as its official currency. Following the US dollar, the euro stands as the second-largest and second-most traded currency globally.

Capital City: Lisbon serves as the capital city of Portugal. It is not only the capital but also the largest city in the country, hosting an estimated population of 504,718 residents.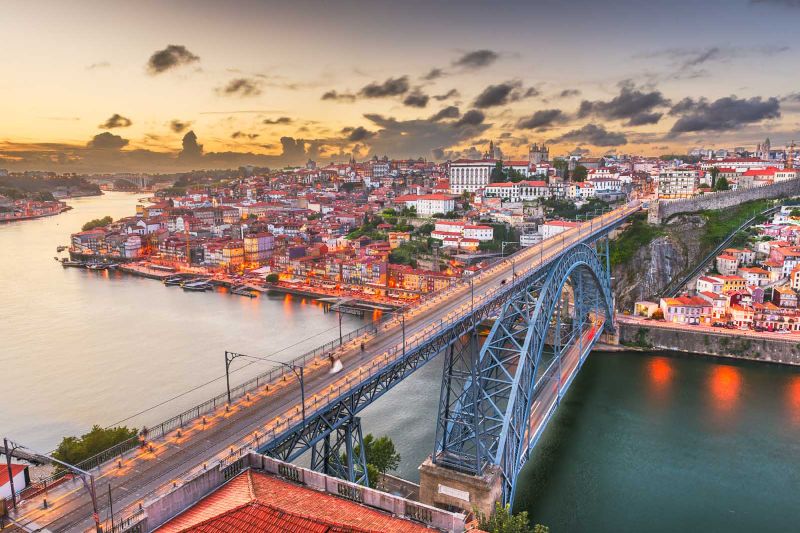 Languages: The official language of Portugal is Portuguese. In addition, approximately 27% of the population speaks English, while Spanish and French are also spoken by 10% and 15% of the populace, respectively.

Climate: Portugal generally experiences hot summers and rainy winters, contributing to its pleasant climate throughout the year.

GDP: As of 2018, Portugal's GDP amounted to nearly 238 billion US dollars. The country's year-over-year growth for 2019 and 2020 was estimated at 2% and 1.7% respectively, indicating a positive upward trajectory for this Mediterranean nation. Portugal's GDP constitutes approximately 0.38% of the global economy.
Guide to Acquiring a Golden Visa
Capital Transfer
Options to Qualify for a Golden Visa:

- Make a capital transfer of at least €500,000 towards research activities or €250,000 for the preservation of national heritage in Portugal.
- Invest a minimum of €500,000 in units of investment funds or venture capital funds for companies with a minimum 5-year maturity, with at least 60% of the investments being realized in Portuguese-based commercial companies.
- Establish a commercial company with a minimum capital of €500,000 and create 5 permanent job positions.
- Transfer €1,500,000 to a Portuguese bank as capital investment.
Invest in Property
Investment Options for Property Qualification:

- Invest in residential property valued at €500,000 or higher within designated interior areas of Portugal. For commercial property, there is no location restriction as long as it is valued at €500,000 or more.
- Purchase property with a value of €350,000 or more, applicable to properties built before 1990 or located in urban regeneration areas earmarked for refurbishment. This criterion is valid for both residential and commercial properties.
- Properties meeting any of the above requirements can be purchased with a 20% reduction on the minimum investment amount if they are located in low-density population areas (€400,000 or €280,000).
Create Jobs
Job Creation and Business Investment Options:

- Establish a minimum of 10 new job positions. However, this requirement can be lowered to 8 job positions if the investment is made in sparsely populated territories at the NUT III level, with either less than 100 inhabitants per square kilometer or a GDP per capita less than 75% of the national average.
- Create 5 permanent job positions and invest €500,000 into a Portuguese business.
Benefits of the Portuguese Golden Visa:
- Favorable Tax Regime: Portugal offers a beneficial tax regime for foreign investors, allowing them to become non-habitual tax residents.

- EU Citizenship: After five years, you can apply for Portuguese citizenship and obtain a permanent residence permit. This grants you a Portuguese passport, providing visa-free access to over 180 countries and a Schengen Visa for travel within the European Union.

- Attractive Returns on Investment: Portuguese real estate investments offer generous returns, with yields of up to 7% and an average capital appreciation of 5%.

- Visa-Free Travel: With the Portugal Golden Visa, you and your family enjoy greater freedom of movement, including visa-free access to all 27 EU countries.

- Affordability: The Portuguese Golden Visa program is one of the more affordable options in Europe, with investment options starting at €250,000.

- Short Minimum Stay: To meet the minimum stay requirements, you only need to spend a total of five weeks in the country over a five-year period.
Benefits of the Non-Habitual Resident (NHR) Tax Regime in Portugal:
- Worldwide Income Exemption: Under the NHR regime, for the first ten years, worldwide income is exempt from tax, while domestic earnings are taxed at a flat rate of 20%.
- Significant Tax Savings: The flat rate of 20% on domestic income for ten years offers substantial tax savings compared to the progressive scale system that applies to regular taxpayers.
- Exemption of Worldwide Income: Income from capital gains, investment funds, and rental income generated worldwide is exempt from tax in Portugal.
- Residency Requirements: The NHR regime is open to individuals who have the right to reside in Portugal and have not held tax residency status in the country in the last five years. rad2degbr
- Well-Received Tax Regime: The favorable tax regimes, including the NHR regime, are highly appreciated by those applying for the Portugal Golden Visa.

For more detailed information on the NHR regime, please refer to our comprehensive guide to NHR in Portugal.
Eligibility for the Portugal Golden Visa:
1. Age and Criminal Record: Applicants must be over 18 years old and have a clean criminal record in both Portugal and their country of origin. The program is open to non-EU citizens.

2. Language Requirement: While there are no specific language requirements for the visa application, a basic knowledge of the Portuguese language is necessary to become a permanent resident.

3. Family Reunification: The main applicant can include family members in the Golden Visa application. Eligible family members include the spouse, children under 18, parents of the main applicant who are 65 or older, and dependent children under 26 who are full-time students and unmarried.

4. Nationality: The Portugal Golden Visa is available to all non-EU nationals, including US citizens and British nationals post-Brexit. It offers an opportunity for British citizens to regain freedom of movement within the EU and Schengen Area.

5. Investment Criteria: The Golden Visa requires fulfilling the investment criteria, which includes various types of qualifying investments. Proof of investment is necessary, and the invested funds must be owned by the applicant. The investment must be maintained for a minimum period of five years.

6. Minimum Stay: To qualify for the visa, applicants must spend at least seven days in Portugal during the first 12 months and a minimum of 14 days in each successive two-year period. This meets the temporary residence permit requirements before achieving permanent residency.

The Portugal Golden Visa program attracts applicants based on its eligibility requirements, family reunification benefits, investment options, and the opportunity to restore freedom of movement for certain nationalities, such as British citizens.
Investment Options for the Portugal Golden Visa:
To secure a Portugal Golden Visa, there are several investment routes available. Each option has a different minimum investment level. It's important to note that the Golden Visa is a temporary residence permit, and maintaining your investment is a condition throughout its duration. However, once you become a permanent resident or citizen after five years, you are no longer required to keep the investment.

Here are the investment options that can help you obtain Portuguese residency:

1. Real Estate Purchase:
Investing in the local real estate market is a popular choice for obtaining the Portugal Golden Visa. Residential and commercial properties are the two categories to consider. - Residential Property: The property should be located in the interior areas of the country or an autonomous region. Notably, popular regions like Lisbon and Porto are no longer included in the program since the Portuguese Golden Visa changes in 2022. The minimum investment for residential real estate is €500,000, but it drops to €350,000 if the property is in an urban regeneration area. Additionally, a 20% discount applies to properties situated in low-density areas. - Commercial Property: Unlike residential property, commercial property can be purchased anywhere in Portugal. The minimum investment for commercial real estate is €500,000, or €350,000 for properties in an urban regeneration area. Similarly, a 20% discount is applicable to properties located in low-density areas.

2. Capital Transfers:
You have the option to make a minimum capital transfer of €1.5 million to the Portuguese government.

3. Fund Subscription:
Another investment route is to contribute at least €500,000 to a qualified investment fund.

4. Creating Employment:
Investing a minimum of €500,000 in a Portuguese company is another pathway. You must create a minimum of ten new full-time jobs, although in low-density areas, the requirement can be reduced to eight positions.

5. Donation:
There are two donation options available for obtaining the Golden Visa: - Contributing €250,000 to approved art or national heritage projects.
- Donating €500,000 to scientific research institutions.

These investment options offer various pathways to secure Portuguese residency through the Golden Visa program. Whether you choose real estate investments, capital transfers, fund subscriptions, job creation, or donations, each option has its own minimum investment requirement and specific benefits.
The application process for the Portugal Golden Visa:
Acquiring a Portuguese Golden Visa involves several steps, but the overall process is generally uncomplicated. Most of the process can be completed remotely, although certain steps require your physical presence, including attending a biometrics appointment to submit your fingerprints. The duration for the approval and issuance of your residence card typically ranges from three to six months, although processing times may vary.

Here is a general outline of the application process:

1. Preparation:
- Gather the necessary documentation, such as identification, proof of funds, and supporting documents for the chosen investment option. - Ensure you meet the eligibility criteria, including age requirements and a clean criminal record.

2. Select an Investment Option:
- Choose from the available investment options, such as real estate, capital transfers, fund subscriptions, job creation, or donations. - Determine the specific investment amount required for your chosen option.

3. Engage Legal Assistance:
- Seek the guidance of a qualified lawyer or legal representative specializing in Golden Visa applications. - They can provide advice, review your documents, and assist throughout the application process.

4. Submit Application:
- Prepare and submit your application along with the required documentation to the Portuguese authorities. - Ensure all forms are completed accurately and provide any additional information requested.

5. Biometrics Appointment:
- Attend a biometrics appointment to submit your fingerprints and have your photo taken. - This step usually requires your physical presence.

6. Application Review:
- The Portuguese authorities will review your application, including the supporting documents and investment details. - They may request additional information or clarification if needed.

7. Residence Card Approval:
- Once your application is approved, you will receive a residence card, granting you temporary residence in Portugal. - The processing time for this step can vary, typically taking three to six months.

8. Maintain Investment:
- Throughout your residency, ensure you maintain the investment as required by the Golden Visa program. - If you become a permanent resident or citizen after five years, the investment requirement is no longer necessary.

While this provides a general overview of the Portugal Golden Visa application process, it's recommended to consult with a legal professional specializing in immigration matters to navigate the specific requirements and ensure a smooth application journey.
Portugal Golden Visa Statistics:
Since its launch in October 2012, the Portugal Golden Visa program has granted a total of 10,748 main applicants with Golden Visas. Along with them, 17,752 family members have also joined, benefiting from the advantages provided by the scheme. The investments made by these individuals have contributed over €6 billion ($6.3 billion) to the Portuguese economy. These statistics cover the period between October 2012 and May 2022.

Onboarding Process:
To begin the Portugal Golden Visa application process, you first need to choose an investment option that suits your preferences. The real estate option is a popular choice, known for offering stable returns on investment. During this stage, it is essential to gather all the necessary original documents required for the application. Seeking the assistance of a specialist can ensure that your documentation is accurate before submitting the application.

NIF and Opening a Portuguese Bank Account:
Obtaining a Número de Identificação Fiscal (NIF), which is a tax identification number, is a crucial step. Additionally, you must open a bank account in Portugal. Physical presence is not required for this step, as your legal representative can handle it on your behalf through a Portuguese bank.

Making the Investment:
Once you have finalized your investment decision, you will need to proceed with the payment of the required sum.

Completing the Online Application:
After completing the investment and gathering all the necessary paperwork, you will submit your pre-application online.

Pre-Approval:
Your application and supporting documents will undergo a review, and if all requirements are met, your application will be pre-approved.

Biometrics Appointment:
You will be provided with available dates for a biometrics appointment. You must attend the appointment in person, along with any dependents included in your application.

Receiving the Portugal Golden Visa:
Upon approval, you and your dependents will receive Portuguese residence cards, which grant temporary residence for a period of two years. After the initial two years, you will need to go through a renewal process to extend the card for another two years.

Eligibility for Permanent Residency or Citizenship:
After a total of five years, you become eligible to apply for permanent residency or Portuguese citizenship, along with obtaining a valid EU passport. The application process for Portuguese citizenship usually takes approximately one year. At this point, you are no longer obligated to maintain your original investment.

It is important to note that the information provided here is a general overview of the Portugal Golden Visa application process, and it is advisable to seek professional guidance from a legal expert specializing in immigration matters to ensure accurate and up-to-date information specific to your situation.
Get a Portuguese Golden Visa with the Investors Assets :
Investors Assets is a company that offers global migration solutions to clients from around the world. With a team of specialists, they collaborate with well-established visa programs, law firms, developers, and financial institutions to provide clients with a complete end-to-end service.

Their focus is on delivering a tailored and comprehensive approach to help clients secure dual citizenship and residency based on their specific needs. They understand the popularity of Portugal as a destination for obtaining second citizenship and have created a guide that provides further insights into moving to Portugal.

For individuals interested in obtaining a Golden Visa in Portugal, Investors Assets encourages them to get in touch with their team of citizenship and residency experts. Through their expertise and services, they aim to assist clients in navigating the process and achieving their goal of obtaining a Portuguese Golden Visa.
Portugal Golden Visa – Frequently Asked Questions:
How much does the Portugal Golden Visa cost?
The minimum investment amount for the Portuguese Golden Visa is €250,000 ($300,000) if you choose to invest in property. It's important to note that there are additional costs involved, including government application fees and legal processing fees. During a consultation with one of our specialists, you will receive detailed information about all the costs involved to ensure transparency.

Do I need to live in Portugal with the Golden Visa?
No, you do not have to live permanently in Portugal to maintain and renew your Portugal Golden Visa or to become eligible for permanent residence or citizenship. The minimum stay requirements for the Portugal Golden Visa state that you must spend at least seven days in Portugal during the first year and 14 days in each subsequent two-year period. Over a period of five years, this adds up to a total of five weeks in Portugal to fulfill the requirements for obtaining a permanent residence permit.

What is the Portugal Golden Visa process?
The initial application for the Portuguese Golden Visa grants you temporary residence for a duration of two years. You can then renew your temporary residence visa for two additional two-year periods, as long as you continue to meet the program's requirements. The overall process of obtaining a Golden Visa and citizenship in Portugal typically takes around five years.

What are the criteria for the Portuguese Golden Visa?
The criteria for the Portuguese Golden Visa are straightforward:
- You and your immediate family members must have a clean criminal record. - You should not be a current citizen of an EU country (this applies even to United Kingdom citizens following Brexit, allowing them to apply for the Portugal citizenship by investment program). - You must meet the required investment amount, which varies depending on the chosen investment option.

If you meet the criteria mentioned above, we can initiate the application process for you.
Portugal Golden Visa Application Process:
The Portugal Golden Visa application process involves several stages and spans over a period of approximately six years, including the initial application and the subsequent renewal periods. Here is an overview of the timeline:

1-3 MONTHS:
- Secure your investment and gather the required documents. - Submit your Golden Visa application.

MONTH 6:
- Your Golden Visa application is reviewed and approved.

MONTH 10:
- Golden Visa residence cards are issued, granting a temporary residence permit for a period of two years.

YEAR 2:
- Renew your Golden Visa for an additional two years, provided that you have met all the requirements.

YEAR 4:
- Renew your Golden Visa again for another two years, as long as all the requirements are still met.

YEAR 5:
- Submit your application for Portuguese citizenship.

YEAR 6:
- Obtain Portuguese citizenship, and EU passports are granted to you and your family members.

Throughout the process, it's important to ensure that all the necessary requirements are fulfilled to maintain and renew your Golden Visa until you become eligible for citizenship. The exact timelines and requirements may vary, and it is recommended to consult with specialists who can guide you through the application process and provide accurate and up-to-date information.