Enables entry to 152 destinations without the need for a visa or with visa-on-arrival privileges.

Receive your Certificate of Citizenship and passport in just six months.

Count on our team of experts to provide guidance throughout your citizenship by investment journey.
Citizenship By Investment
From $400,000
Citizenship By Investment Programme in St. Kitts & Nevis
St. Kitts & Nevis twin-island Caribbean destination, renowned for its breathtaking rich historical heritage influenced by diverse cultures and natural beauty. This exotic beauty offers a variety of landscapes and abundant sunshine, making them an irresistible choice for visitors. The thriving real estate, tourism, and financial services sectors drive the islands' economy.

Citizenship by Investment Programme was adopted by St. Kitts & Nevis in 1984, which allows the acquisition of citizenship on the basis of investment. It has earned a remarkable reputation as one of the most prestigious and successful programmes worldwide. It has played a pivotal role in fostering stability and economic growth within the country.

The Federation of St Kitts and Nevis has prestige as a member of influential international organizations such as the Organisation of American States, and the British Commonwealth, CARICOM. A St. Kitts and Nevis passport grants a visa-free or visa-on-arrival permit to visit 152 locations, including the United Kingdom and the Schengen region.
Know About St. Kitts & Nevis
Situated amidst the West Indies and comprising the Leeward Islands, St Kitts & Nevis emerges as a captivating island nation within the Commonwealth, with Queen Elizabeth II serving as its esteemed head of state.

With its origins traced back to inactive volcanoes, St. Kitts & Nevis proudly holds the distinction of being the Caribbean's smallest country. Nevis, an integral component of this dual-island nation, rests southeast of St Kitts, merely 3 km away. Both islands enchant visitors with their abundant luxury beachfront resorts, where opulence converges with breathtaking natural vistas.

The St. Kitts and Nevis Residency and Citizenship Programme stands as a groundbreaking initiative, establishing itself as one of the most respected and effective programs globally. Below are the reasons behind its unwavering global trustworthiness.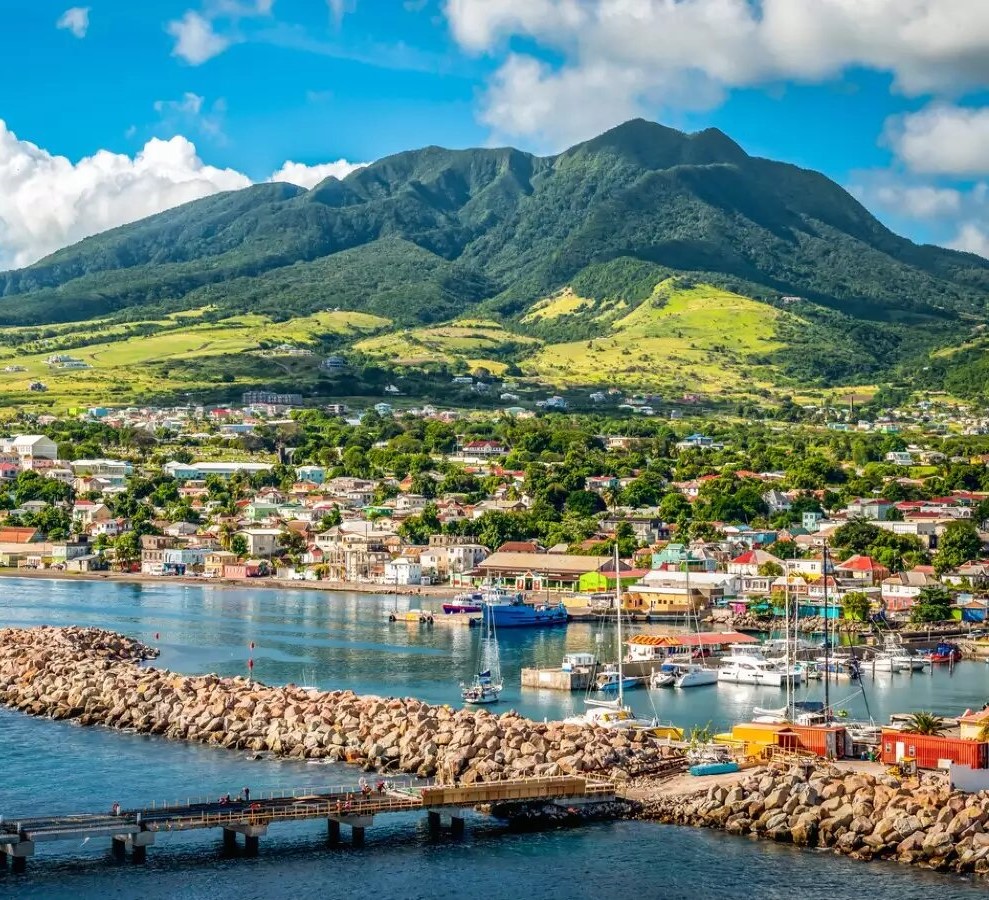 1. St Kitts & Nevis houses slightly over 52,000 inhabitants within its 261 km territory, resulting in a population density of 164 individuals per km.

2. St. Kitts & Nevis employs the Eastern Caribbean Dollar (XCD) as its currency, aligning with the Organisation of Eastern Caribbean States (OECS), maintaining a fixed exchange rate of 2.7 XCD to the USD.

3. The country's GDP represents less than 0.01% of the total global economy, valued at $1.04 billion, illustrating its unique position in the worldwide economic landscape.

4. Basseterre, the esteemed capital and largest city of St Kitts & Nevis boasts a population of approximately 14,000 residents.

5. English stands as the official language of the country, while a significant segment of the populace converses in St. Kitts Creole.

6. Embracing a tropical climate, St Kitts & Nevis offers a year-round experience of warmth and humidity.
How to Acquire Citizenship
The oldest investment program to acquire citizenship in the world holds an exceptional level of trust and credibility. Attaining citizenship in St. Kitts and Nevis presents an opportunity to enjoy the full array of privileges and rights as a Commonwealth nation citizen, both in the UK and other Commonwealth nations.

With the convenience of remote application, approval can be obtained in under 6 months, eliminating the need for travel. Furthermore, there exists a fast-track option for securing a second passport in as little as 2 months.

By Investing in Real Estate: Either make an independent investment in a government-approved real estate project with a minimum value of $400,000 for a single applicant and hold the property for at least five years. Alternatively, can choose a joint investment option by partnering with another primary applicant in a single real estate asset, with a total investment of $200,000.

Through Donation: An option involves making an irreversible contribution to the Sustainable Growth Fund, with amounts starting at $150,000 for a single applicant and varying based on the inclusion of dependents in the main applicant's submission. Families of up to four individuals can participate in this approach.
Advantages of St Kitts & Nevis Citizenship
Through the St. Kitts and Nevis citizenship program, once you obtain citizenship, you and your family gain lifelong citizenship, which can be inherited by future generations through descent.

Government Access: Acquiring St. Kitts and Nevis citizenship provides entry to the nation that is a member of the Commonwealth and an economically stable nation.

Program Trustworthiness: The St. Kitts and Nevis Citizenship Programme, launched in 1984, holds the recognition of being the first of its kind and stands as the most respectable and flourishing programme.

Proven Real Estate Record: St. Kitts boasts the highest number of fully completed real estate projects and the longest track record among all citizenship programmes worldwide.

Visa-Free Travel: Acquiring a passport via the country's citizenship program grants visa-free travel to 152 destinations. This extensive list encompasses all of Europe, the UK, Russia, Hong Kong, and Singapore.

Inherited Citizenship: Citizenship of St. Kitts and Nevis is permanent and can be inherited by future generations, ensuring long-term benefits for your family.

Tax Advantages: The nation offers an appealing tax regime, exempting income earned outside its jurisdiction from taxation and refraining from imposing inheritance tax.
Taxation Benefits in St Kitts & Nevis
Tax-Free Environment: St Kitts and Nevis offers a favorable tax environment for its citizens. The jurisdiction does not impose direct taxation, ensuring that individuals residing on the islands are exempt from personal income tax, estate duty, inheritance or succession taxes, gift taxes, and net worth tax.

No Taxation Burden: Citizens can enjoy the benefits of living in a tax-free jurisdiction, allowing them to retain a greater portion of their income and assets. St Kitts & Nevis provides a welcoming environment with no burdensome tax obligations.

Financial Freedom: By choosing St Kitts & Nevis as your tax domicile, you can experience the freedom of a tax-efficient lifestyle, allowing you to maximize your financial resources and pursue your financial goals without the constraint of heavy taxation.

Peace of Mind: The absence of direct taxation in St Kitts & Nevis provides individuals with peace of mind, knowing that they can enjoy the fruits of their labor without the worry of excessive tax liabilities. It creates an attractive and secure environment for financial planning and wealth management.

Favorable Tax Regime: St Kitts & Nevis has established a favorable tax regime that encourages economic growth and prosperity. The absence of direct taxation contributes to the country's appeal as a preferred destination for individuals seeking tax advantages and financial stability.

Please note that it is always advisable to consult with a professional tax advisor or attorney for personalized advice regarding your specific tax situation.
St Kitts & Nevis Citizenship Application Process
Step 1: Initial Client Due Diligence (Months 1-2) During the first phase, thorough due diligence is conducted on the client. Our team will guide you through this process, ensuring that all necessary information is gathered accurately. Simultaneously, the application is prepared meticulously to meet the requirements of the Citizenship by Investment Unit (CIU). Once completed, the application is submitted for further processing.

Step 2: Application Review and Investment/Donation (Months 2-6) In this stage, the submitted application undergoes a comprehensive review by the CIU. The review process ensures that all necessary documentation and requirements are met. At the same time, the investment or donation, as per the chosen route, is finalized by the applicant. Our team will assist you throughout this period, ensuring smooth communication and coordination.

Step 3: Certificate of Citizenship and Passport Issuance (Month 6) After successful review and completion of the investment or donation, the final step is the issuance of the Certificate of Citizenship and passport. Once approved, the St Kitts & Nevis government will grant you the official documentation that affirms your citizenship. This includes the Certificate of Citizenship and a valid passport.

Our Commitment to a Smooth Application Process: Throughout the entire St Kitts & Nevis citizenship application process, our team is dedicated to providing personalized guidance and support. We ensure that your application is prepared accurately, submitted correctly, and followed up with the relevant authorities until it receives approval. Our commitment is to make the journey as smooth and efficient as possible for our clients.

Please note that the timeline provided is an estimation and can vary depending on individual circumstances and the complexity of the application.